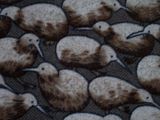 It's actually more likely that your first question would be "What is that?"
Let me back up a little bit. When I was getting ready to jet off to New Zealand, the orientation packing list suggested that we bring a sleeping bag. It's a good suggestion if you have a high-tech sleeping bag that rolls up to fit in your Nalgene or whatever or if you plan to do a lot of tramping and camping. However, as a day hike sort of girl, I decided against the sleeping bag and instead folded up a set of sheets, a cotton blanket and my pillow to pad out my big suitcase. Even though my bedding got sort of dirty at orientation, I was probably the happiest person in the city of Wellington when I didn't have to run to the store the first night to pick up sheets (or keep using a sleeping bag). I figured I'd pick up another blanket or comforter when the weather got a bit colder, but I was a little cold even the first night. Too bad, I thought. Then I'd have to go back to the fabric store on Lambton Quay where I'd petted the nice fleece blanket with a kiwi print. How sad!
Great things about my blanket:
-It's from New Zealand. Automatic in the plus column.
-It's extra-soft in the way that 100% polyester things are when you first buy them, before they get all gross and start pilling.
-It makes my ridiculously spartan room look so nice.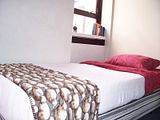 Seriously, I do have other things in my room besides magnetic poetry, a few books and a travel alarm clock. But not a lot.
Price: $20. Which might be unnecessarily pricey, but if you keep in mind that the 12% GST is included in all prices and the NZ dollar is equivalent to about 80 U.S. cents, it's pretty much free!