The other night I got really bored and decided to do some inventory on my closet. Turns out, not including the dress I bought last Friday, that I own 20 dresses. 11 of these are either rayon or model (which, wikipedia tells me, is just a different form of rayon). 10 are babydoll dresses and another four have some other sort of waist detail, like wrap dresses or a twist at the waist. Out of the 20, 3 were bought in 2006 or earlier (although to be honest, I have a good amount of older and fancier dresses that I left at home and are a few years older). 17 dresses in 14 months actually doesn't sound too bad, right?
The dress I bought last Friday is part rayon, babydoll, and a wrap dress, plus it has the other dress requirement of showing cleavage (I'm not a slut, I swear it's just that high-necked dresses aren't at all flattering on me. I think v-necks draw the eye up to the shown skin on the chest, while an eye on a high-necked dress has no place to go but the stomach, and I'd much rather you look at my boobs than my stomach). It's very cute and is partly patterned, which is a dress trend I've been trying to do more of (17 of my dresses are solid colored, and the only one with a real pattern is the batik Ghana dress, which I've never worn but will someday).
But I'm not going to blog about the dress I did buy, but all the ones I didn't. At the Brooklyn boutique
Pema
, on Bedford Ave between 4th and 5th, there was a huge sale with 50% off almost every piece of clothing in the store. I picked out some dresses, went into the dressing room, and quickly realized that 3 out of the 4 pieces were by the same designer. Introducing... Akiko!
I'm having trouble finding information on her and a big designer website is not coming up, so the dresses will have to speak for themselves. She designs simple but cute dresses that hit all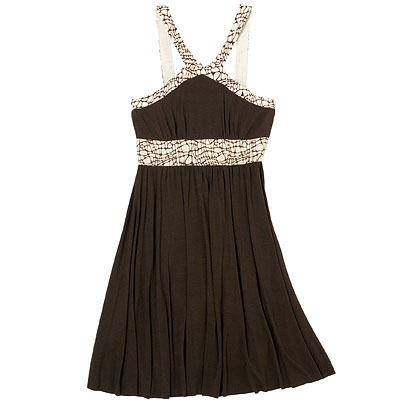 my requirements (jersey, babydoll, solid-colored, low-cut).
This brown one was picked by InStyle as one of the
best dresses under $200
in 2006. It probably isn't available anymore, but it's $170.
I actually tried on this blue one and was sorely tempted to get it. It's not babydoll, but the draped neck and embroidered collar makes the top really interesting and fun. It'd be perfect for going out to someplace fun yet upscale
; it'd be tough to dress it down for class, though. It's on sale for
$98 at Nika la Butik
.
I also tried on a dress slightly similar to this black one (excuse the awful mannequin photos). It was a really light, buttery yellow/god, with a bright cold trim under the bust and at the neckline. It has the same tiered skirt, which is a trend that I think only works in fabrics with a little bit of weight yet a lot of movement (I want to marry rayon and modal can be our best man). This black one is marked down from $199 to $49.75 at
Bella Jules boutique.
The other dress I tried on, that I had a really tough time leaving behind, was the
same great berry color as the right dress, in the style of the left purple
dress. These photos are awful-- you can barely see the dip-dye effect on the silk bottom section of the dress, and there are these little details where the silk part of the straps meets the modal bodice. But trust me, it's a cute dress. And bra friendly! But here's what's stopped me: first, I feel like everytime a celebrity wears a dip-dye or ombre dress, the Fug Girls proclaim it scroll-down fug and make a "She spilled something on her skirt" joke. But I kind of like the graduated color scheme, especially when going from light on top to dark on bottom. Plus, these dip dye isn't horribly dramatic; it's not going from baby pink to fuschia, I swear. Anway, the second thing that stopped me was the price; even at half off it was $90, which I feel is a little too much for a dress I'll only wear on special-but-not-that-special occasions. I don't know, I might just be a really cheap girl. It was a cute dress... anyway,
the purple dress is $89.50
and the
berry spaghetti strap dress is awesomely priced at $42.25
, both at
Bella Jules boutique. There's also an
"azur" version of the berry dress
, although it's full priced ($167) at Polkadots and Moonbeams.
Here a few more Akiko dresses at Bella Jules that I liked. But keep your eye out for the label next time you're browsing a rack of cute dresses at a boutique. They're all under $200, which all things considered is pretty reasonable (earlier today Danielle and I were bitching about the label Moschino Cheap and Chic, which has like $900 dresses. What the fuck is that? Does cheap mean something else in Moschino world?). I feel like if I'm spending more than a 100 bucks on something it has to go beyond cute-- it has to be beautiful. These dresses are mostly cute, and they don't have the incredible construction or details that makes me want to drop more money. So, I guess I voted "no" against this by not laying down my credit card, but we'll see if there are more Akiko dresses in my future.
Teal One Shoulder Dress, $179
Grey Contrast Leather dress, $49.75
Cream Sequin Tunic, $34.75