I recently had a revelation that changed my life. It was only, like, three days ago, but the last three days have been really great. I ran out of shampoo last week and instead of picking up an overpriced bottle of the same old stuff from the grocery store, I headed to the Lush store down on Lambton Quay. I was immediately smacked in the face with the smell of a thousand bath bombs, but the girl there was very nice and helped me select the shampoo that would probably be best for my extremely dirty hair. Her favorite was Juicy, one of the liquid shampoos, but I opted for her solid shampoo suggestion,
Seanick
.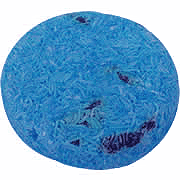 It is extremely blue. The Lush employee pointed out how it smelled like the beach, which was really not a selling point. As much I enjoy the beach, I don't want to smell like salt, seaweed, flotsam and jetsam, etc. But I chose Seanick and she threw in a sample of a conditioner called Veganese and a coupon if I wanted to come back to pick up a bigger bottle.
So I headed home and tried my new shampoo and conditioner, but there were no revelations just yet. I wasn't very impressed; my hair felt the same, maybe even flatter. Over the next few days I tried to figure out whether it was the shampoo or conditioner or both that wasn't working out for me. And
then
the revelation appeared unto me: DO NOT USE CONDITIONER. EVER. Seriously, why have I been using conditioner all my life? (All right, not all my life. I pretty much had no hair until I was three and a half.) I have baby hair that is fine and naturally straight. In the event of 400 percent humidity, it would not frizz in the slightest but just get weighed down instead. I really should not be washing my hair only to make it heavy and gross again with conditioner. Now my hair feels free and light and happy and shiny, despite the fact that it has rained seventeen times in the last week! Plus, I don't smell like a pier or anything.
I really need to buy this
soap dish
(or, I suppose, any soap dish). My shampoo bar is rather squishy and if you even think about setting it down in the shower, it will melt and disappear down the drain instantaneously. Which is why its currently sitting in a ziploc bag on my windowsill.
As for the rest of Lush's products, I am still recovering a bit from the Attack of the Bath Shit of 1999, in which all girls gave all their friends fragrant soaps (preferably from Bailiwicks) for every single birthday and holiday. But there are some tasty looking soaps here, including this
Extra Virgin Olive
soap which made my stomach rumble upon reading the description.
Haagenbath
for dessert!