because my Nine West one is two years old and more leather is flaking off the straps everyday. Two big purchases in such a short timespan is enough to send me into a tailspin, but I've found some great options on Etsy and I feel good about spending $150-ish for a good quality bag.
So if I want to go with the camel coat/red bag look, I have two picks from
Adele Shop
(where everything is 15% off!). Slightly darker red foldover flap bag, $123. Love the color and the buckle details, but I have two concerns: first, that it'll be hard to get the straps onto my shoulder when I'm bundled up in a coat/sweater. I fucking hate the way bags look hanging on the crook of your elbow--it just reads "spoiled princess" to me. (Except: Pan Am stewardesses.) Second concern is that the foldover flap will be an annoyance when I'm rushing down the subway steps and need to pull out my Metrocard without breaking stride, or when I'm already on the subway and want to get my book out to read a few pages, even if I'm going one stop.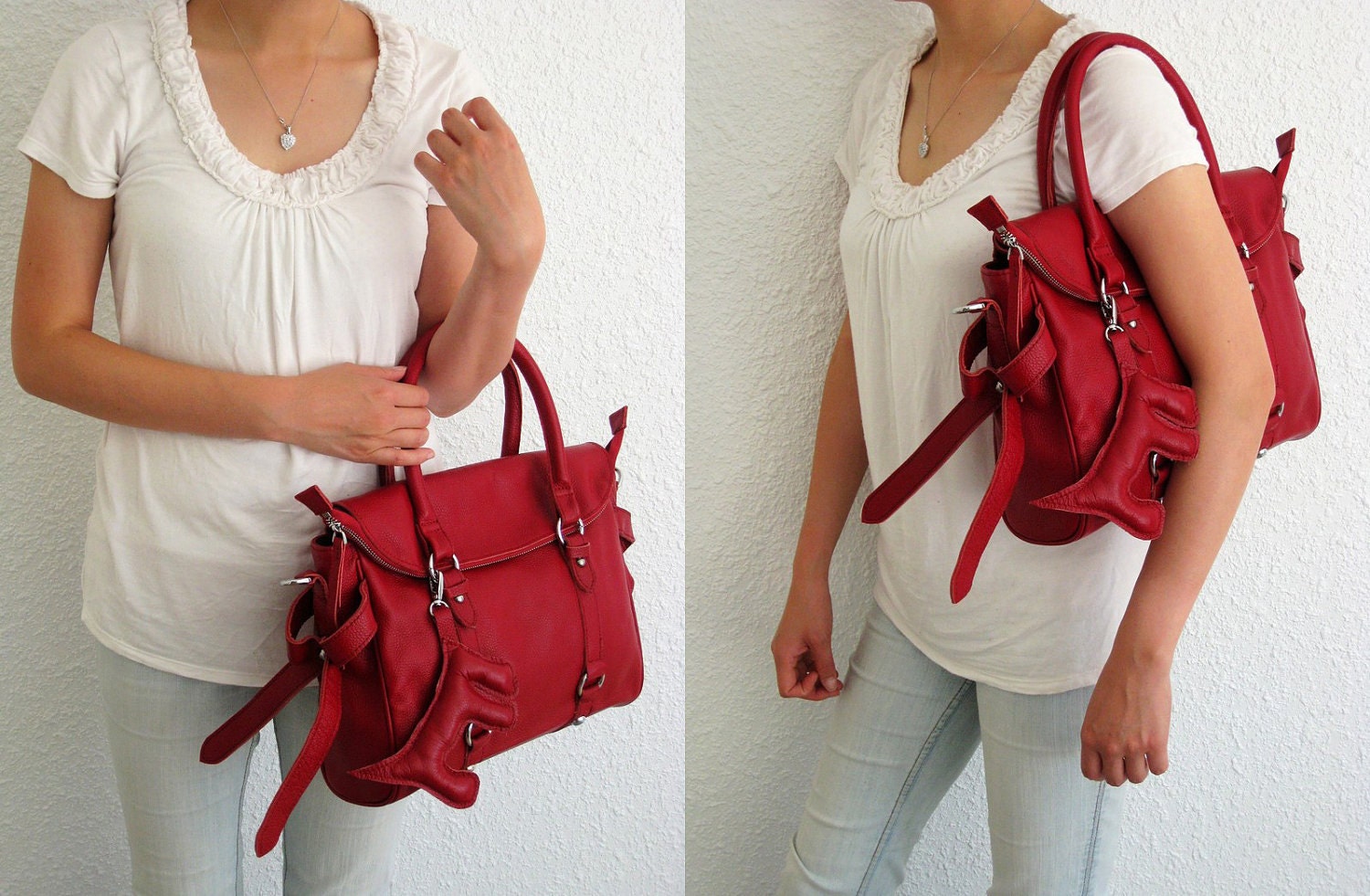 This Flamingo bag, $123
, opens at the top, but it is a little dull in comparison, right? The pretty floral lining makes up for it a little, though.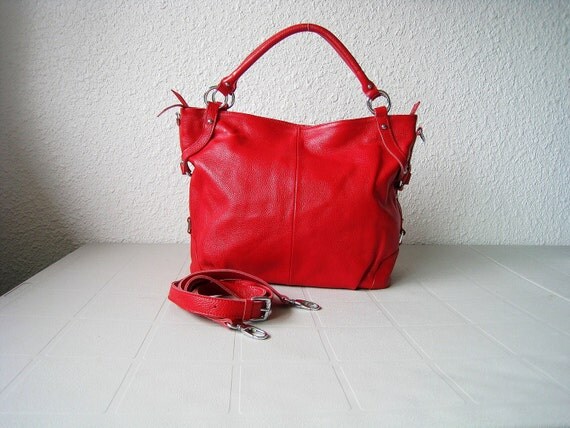 I'm not sure if the color in this photo is accurate--it looks more like merlot than candy apple red.
Red leather handbag, $125
. Also simple, and perhaps too small for my everyday pack animal needs, but that tassel is charming my heart.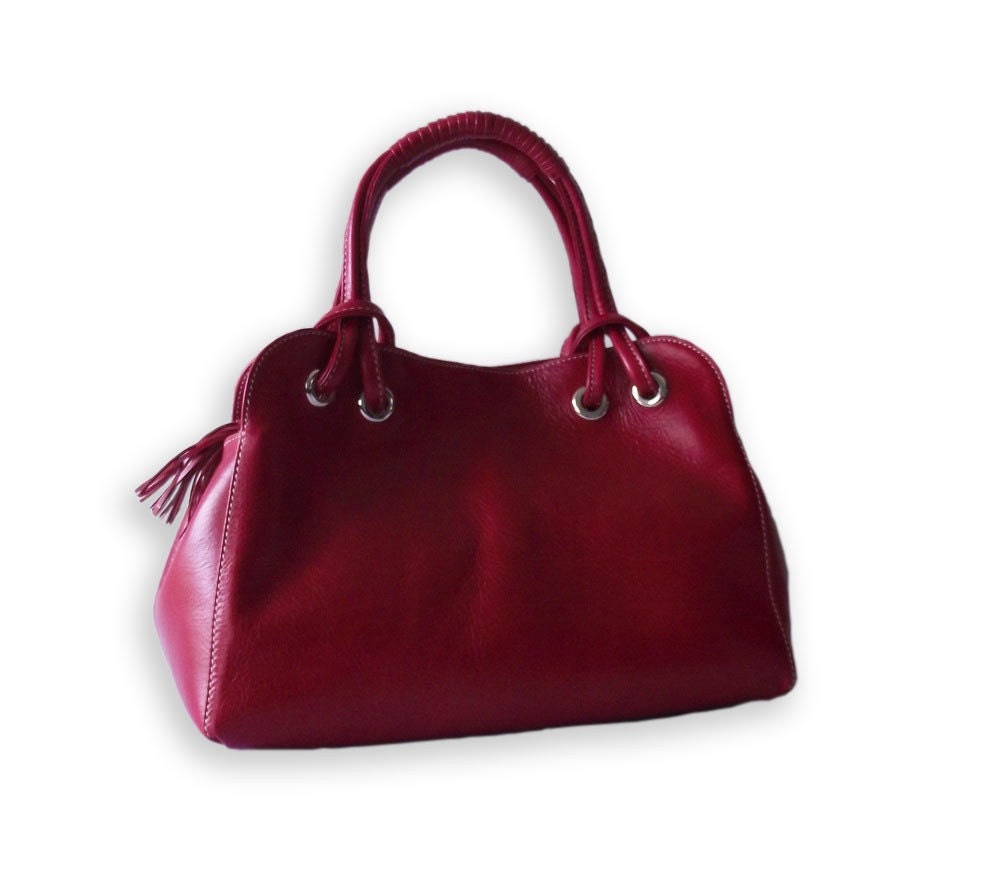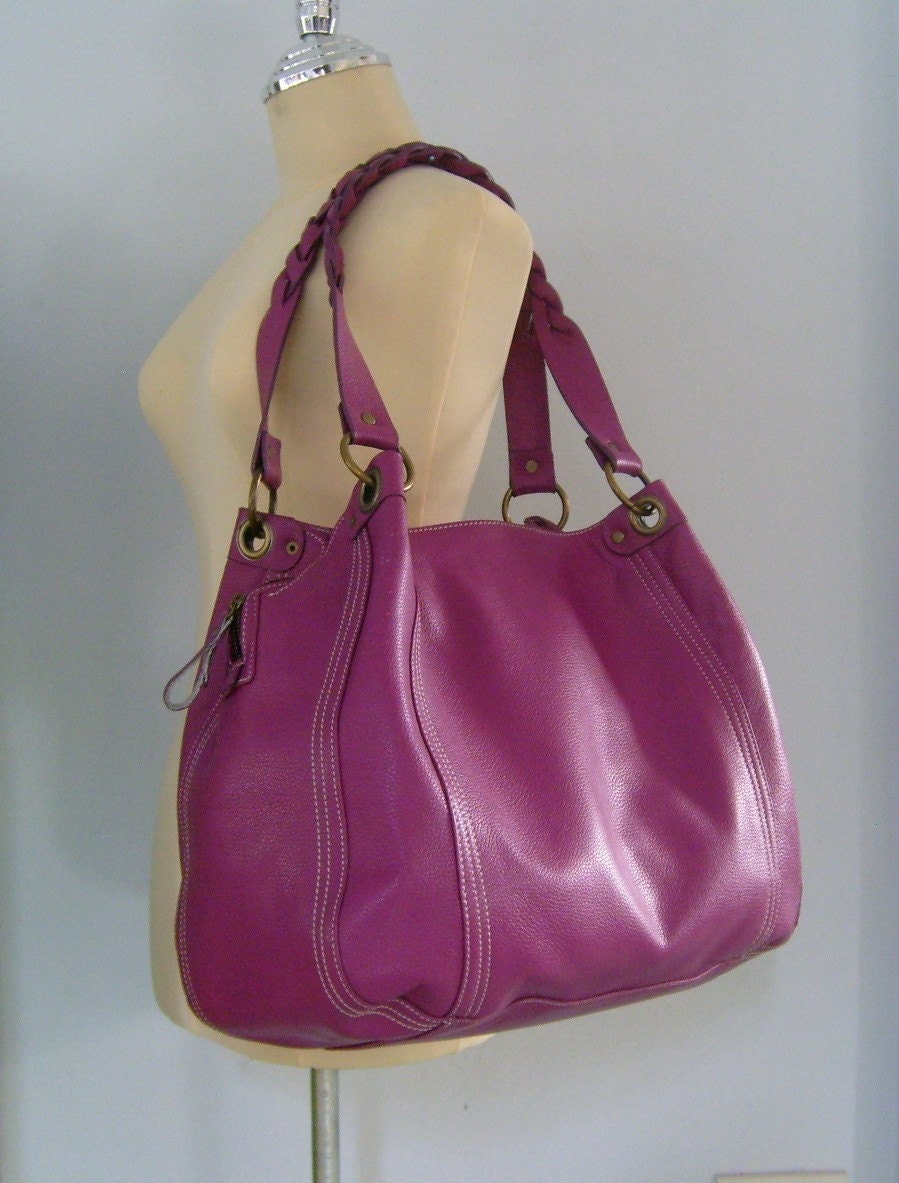 You know what could look unexpectly awesome with a camel coat? Turquoise leather. This would definitely fulfill one of my purse Musts: being able to quickly pick it out from a pile of bags on someone's bed at the end of an apartment party.
Turquoise pebble bag, $145
.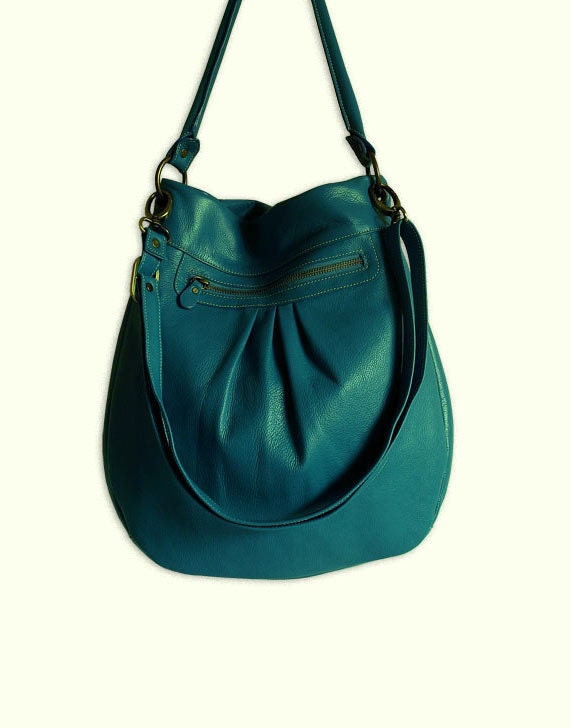 Then there's this more subdued
bluish-grey bag, $13
0. It's made from a vintage jacket, so the leather is a little worn in--how cool is that?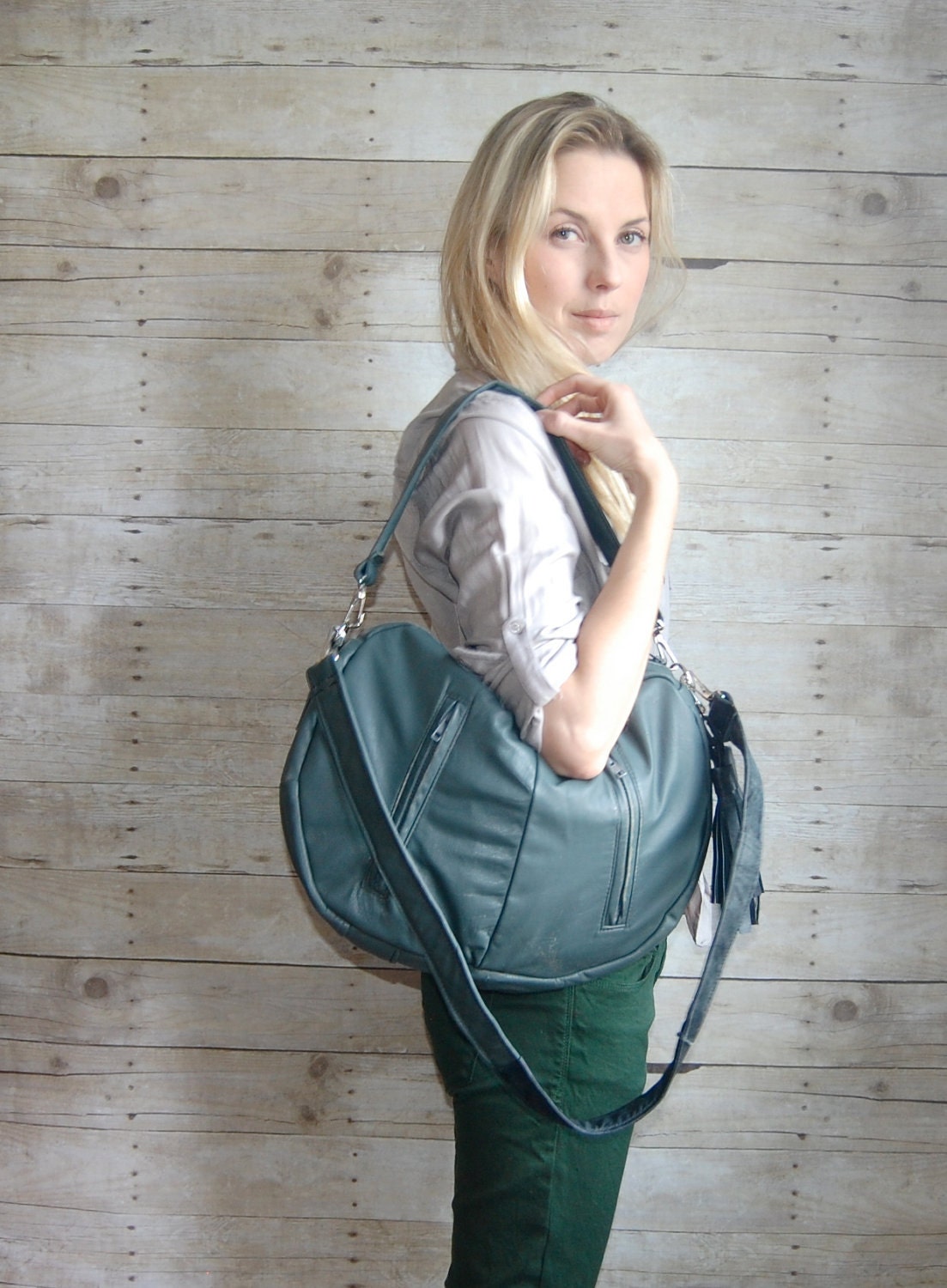 Another tassel! This electric blue color is one of my favorites, and this could be a good happy medium size between "bag lady" and "tiny paperbacks only" size purses.
Slouchy blue leather handbag, $145
.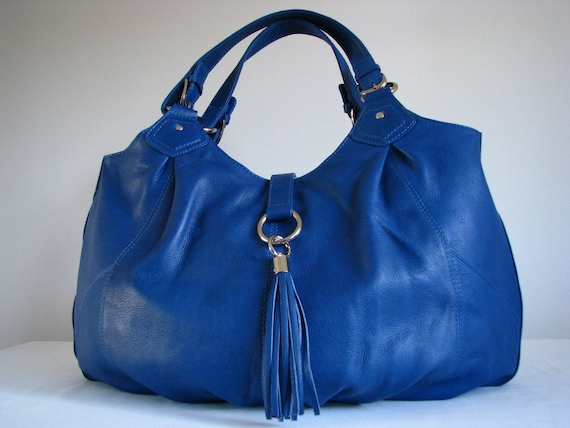 And then there's Cognac brown, the shade of my very favorite pair of boots. Here's a bag that'll never go out of style, and I like the exterior pockets (great for keys and work ID badge).
Brown bag, $115
.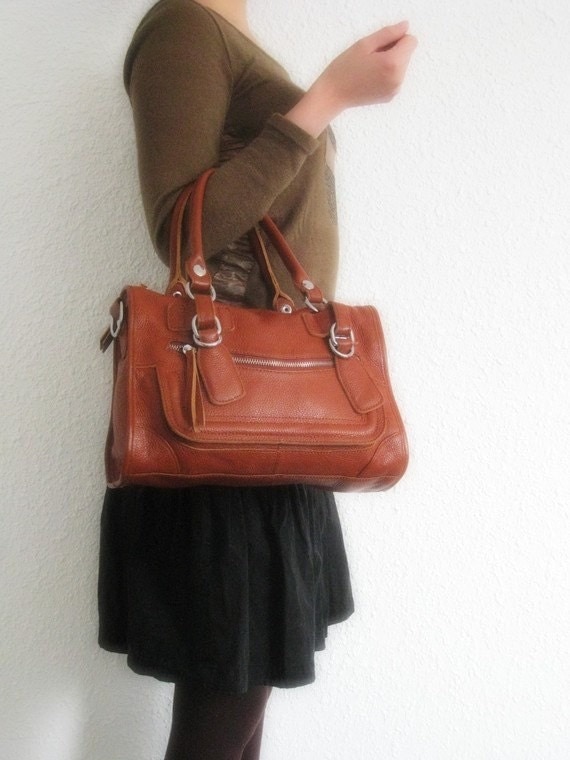 Two many good choices! Leave a comment telling me what to get, but don't you dare go over to Etsy and buy any of these one-of-a-kind bags out from under me.